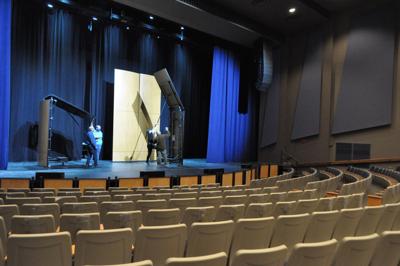 "It was a 14-month campaign to raise around $500,000," said Downall. Jay Parrent, a vice president at the college, said the Madisonville College Foundations was a partner during the fundraising and the support from the community was phenomenal. Downall said there were people involved in the fundraising who started coming to the center with their grandparents and now their children participate in the Summer Arts Academy. The building is roughly 30 years old and they figured over 40,000 people utilize the building in a single year, he said. For the last 20 years, they have hosted the community theater, meaning rehearsals, building sets and many more events. "There was just ware and tear," said Downall. "That was where the need was determined." He said he spent the spring going over colors, finalizing designs for the renovation and getting bids together. The plan was to continue programming into August, then pause to start bonuses construction. The auditorium was shut down in mid-March due to COVID-19, he said.
https://www.the-messenger.com/news/local/article_620151ee-7a24-5c7b-8536-6a3be24fb522.html
One Chapel Hill resident is working towards building North Carolina's very first net-zero energy neighborhood. Jodi Bakst is the owner of Real Estate Experts in Chapel Hill. Since the start of 2019, she has been hard at work developing North Carolina's first 100 percent net-zero energy residential community in Orange County. Bakst is developing Array , a 12-lot neighborhood located on 60 acres of land off Orange Grove Road just minutes west of downtown Carrboro and Chapel Hill. Bakst said creating an energy-efficient neighborhood in Orange County is ideal and timely for several reasons. "I think that the location of this property being in Orange County – you have a preponderance of people that really do care about the environment and care about living sustainably," Bakst said. "Then from a timing perspective, with the way that things are going with respect to climate change, and how fast things are moving in a negative direction, this is the perfect time for the residential building industry to show people that it is possible to build a home with a significantly reduced carbon footprint." According to the U.S. Department of Energy, buildings consume 40 percent of the nation's energy and 25 percent of the nation's freshwater. Bakst said Array's net-zero energy homes will produce as much energy as they consume as well as meet aggressive targets for water conservation and indoor air quality. Each house will also be third party certified based on the National Green Building Standards. "The houses that we're talking about in Array, which are very achievable to build, are about 90 percent more efficient than a standard code-build house," Bakst said.
https://chapelboro.com/news/development/ncs-first-sustainable-green-neighborhood-coming-to-orange-county